常规价格
$2,849.00 AUD
促销价
$2,749.00 AUD
单价
单价
销售额
售罄
Pre-Order For Around Mid-December 2023 to January 2024
DISCOVER A DEEPER CONNECTION
The Descent Mk3 series comes in two sizes – 43mm and 51mm (so effectively the same rough sizes as the Descent MK2/MK2i and the MK2S) – with air integration options on both, and features a bright touchscreen AMOLED display, a 200m dive-rated case with metal leakproof buttons that are fully operational at that depth, and up to 48 hours of battery life in dive mode.
The 51mm Descent Mk3i also comes with a built-in LED flashlight for greater visibility in low-light conditions – even underwater.
When paired with the Descent T2 transceiver, divers will be able to send out assistance alerts to other connected divers, and exchange preset messages with other divers up to 30 metres away on a soon-to-be-released software update.
Designed by divers for divers, the Descent Mk3 series is ready for the next excursion with dive modes for single and multiple gas dives (including nitrox and trimix), gauge, apnea, apnea hunt and closed-circuit rebreather.
 Featuring SubWave™ sonar-based communication and diver monitoring, this advanced, air-integrated¹ dive computer and smartwatch comes with Garmin innovations to help prepare you to make the most of your diving experience — plus multisport training and smart features for your active life out of the water.
*Air Integration - Pair with our Descent™ T2 transceivers (sold separately) for integrated pressure monitoring on up to 8 tanks via the SubWave sonar data network.
*Subwave Sonar Networking - Exchange preset diver-to-diver messages (coming soon) up to 30 meters as well as monitor tank pressures and depth for up to 8 divers within a range of 10 metres1.
*Dive Readiness Tool - This Garmin first technology shows how lifestyle factors such as sleep, exercise, stress and jet lag can affect your body — to help gauge when you are best prepared to dive.
*Dive Modes - Get multiple dive modes for single and multiple gas dives (including nitrox and trimix), gauge, apnea, apnea hunt and closed-circuit rebreather.
*Diveview Maps - Colour maps on your wrist offer bathymetric depth contours and more than 4,000 dive sites to help you discover new places to dive and get oriented.
*Dive Focused Design - With its bright 1.4″ AMOLED color display, sapphire lens, 200-meter dive-rated case and leakproof metal inductive buttons, this watch is built to go deep.
Diver Assistance (coming soon):

 

If a diver is in need of help, this revolutionary tool will let them request assistance right from their watch thanks to enhanced SubWave sonar technology. When using a Descent Mk3i dive computer and Descent T2 transceiver, divers will be able to send out an assistance alert to other connected divers. Nearby connected divers will then be able to see the diver's depth and distance and monitor them until assistance is no longer required.
Diver-to-diver messaging (coming soon):

 

Using SubWave technology,divers with a Descent Mk3i and Descent T2 transceiver will be able to exchange preset messages with other connected divers, up to 30 meters away3.
Dive group tracking:

 

Using air integration, keep track of where other divers are in the group. See depth and tank pressure of up to eight divers who are using a Descent T2 transceiver, up to 10 meters away.
Dive-focused design:

 

A 200-meter dive-rated case with a strong, scratch resistant sapphire lens operates at twice the depth of the previous generations and features metal buttons that are leakproof and fully functional at 200 meters. Plus, a bright touchscreen AMOLED display provides greater visibility—even underwater.
Built-in LED flashlight:

 

Available on the 51mm Descent Mk3i, an integrated LED flashlight with built-in strobe mode gives divers greater visibility in low-light conditions, above or below the water.
Dive readiness:

 

See how lifestyle factors like sleep, exercise, stress and jet lag can affect the body's overall preparedness to dive. A higher readiness score may suggest it's time to dive in while a lower score may be reason to consider using a higher conservatism setting or choose an easier dive.
Pre-Order For Around Mid-December 2023 to January 2024


DIVE FEATURES
DIVE LOG
Store and review data, track gear, take notes — and share via the Garmin Dive™ smartphone app.
BUILT-IN LED FLASHLIGHT
See and be seen with variable light intensities and strobe modes, in or out of the water.
LONG BATTERY LIFE
Stay in the water longer with up to 66 hours in dive mode plus up to 25 days in smartwatch mode.
CUSTOMISABLE DIVE MODES
Add additional screens for each dive mode that features the fields you want to see.
LUME MODE
To aid readability and help maintain night vision, an ambient light sensor gives a green luminescence to your watch face in low-light conditions.
DIVE COMPASS
Built-in ABC sensors, including an underwater compass, help navigate every part of your dive.
SURFACE GPS
Track your entry and exit points on the surface with advanced satellite connectivity.
GARMIN DIVE APP
Pair the app with your Descent dive computer to automatically sync and upload your dive logs.
REFERENCE POINT
Use this GPS tool for surface navigation to a dive site, so you can drop right onto your target every time.
VARIOMETER
This tool helps you monitor your freedive descent and ascent rates through tone and vibration feedback.
BIG NUMBERS MODE
Get a simplified dive screen on your wrist, with larger text to see critical diving data.
TIDE DATA
Stay up to date on ocean conditions by pairing your Descent dive computer with your compatible smartphone.
INREACH® DEVICE COMPATIBLE
Pair with inReach devices and the inReach dive case for satellite messaging off-grid.
SAFETY AND TRACKING FEATURES
If you feel unsafe or if your watch senses that an incident occurred, your watch will send a message with your live location.
MUSIC
Download songs and playlists from your Spotify, Deezer or Amazon Music accounts for phone-free listening.
GARMIN PAY™ CONTACTLESS PAYMENTS
Breeze through checkout lines or transit systems with participating providers.
SMART NOTIFICATIONS
Receive emails, texts and alerts on your watch when paired with your iPhone® or Android™ smartphone.
CONNECT IQ™ STORE
Add watch faces, data fields and apps to your paired smartwatch.


ADD DIVER COMMUNICATION TO TANK PRESSURE MONITORING
Every breath, every tank, every buddy on your dive — track them all on your wrist when you pair the Descent T2 transceiver with your compatible air-integrated Descent™ dive computer1.

Enhanced SubWave™ sonar technology lets you monitor up to 8 tanks when under water — viewing air pressure, depth, use rate and time remaining — for multiple types of diving. Plus, you can even communicate via preformatted messages (coming soon) with other networked buddies wearing their Descent™ Mk3i dive computers.
Dive with added confidence and situational awareness.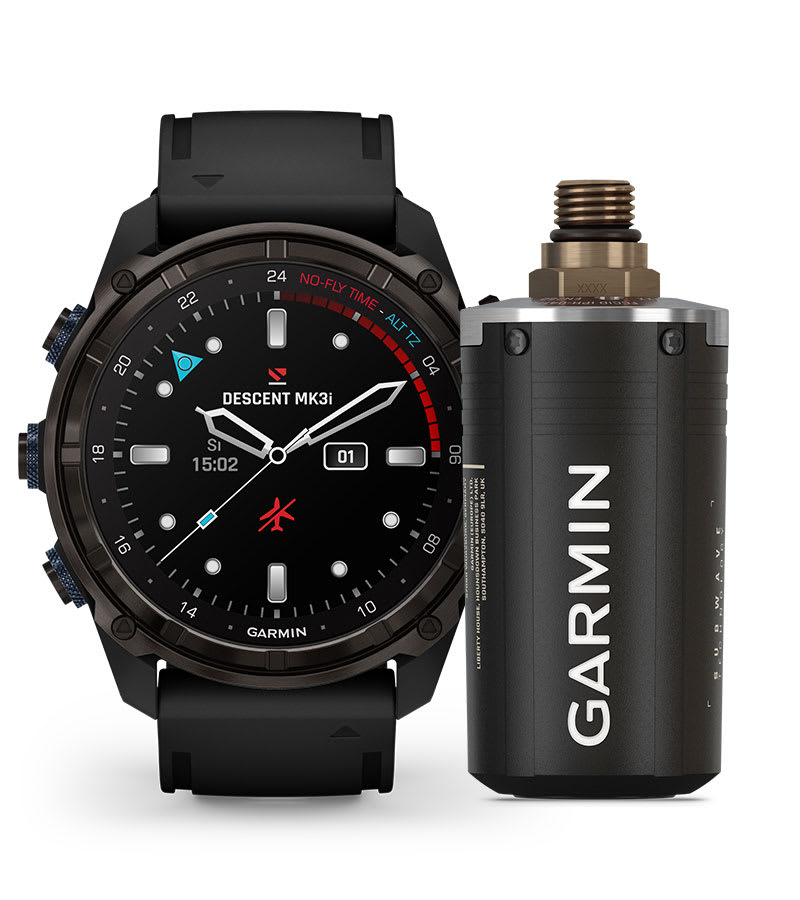 Deep Dive Rated
Built to withstand the elements, the Descent T2 transceiver is dive-rated to 20 ATM (200 meters) — so you can dive deeper without worry.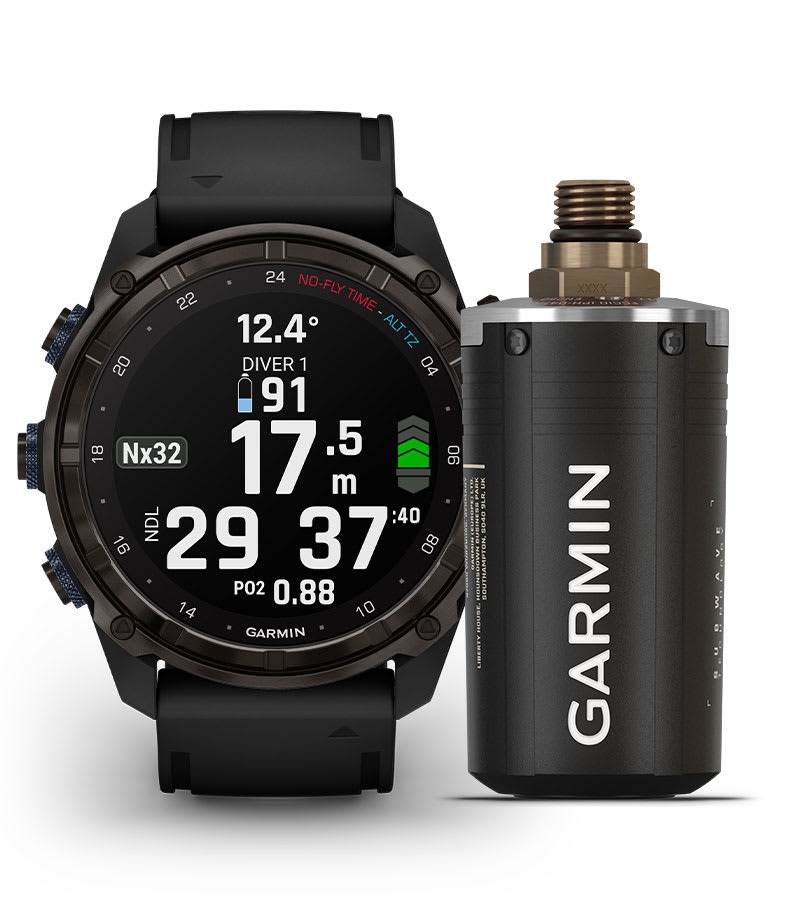 Know Your Tank
Get tank pressure, air time remaining, air consumption rate and battery remaining — all sent directly to your paired air-integrated Descent dive computer1.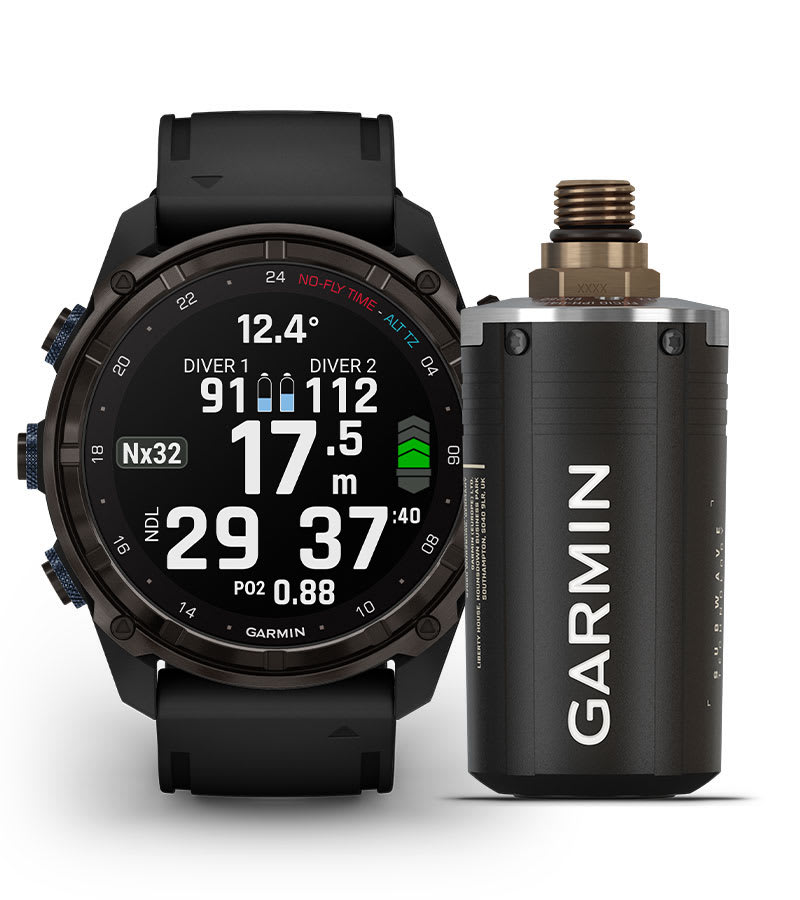 Link Multiple Divers
See your dive buddies' tank pressures and depths at a glance. Pair up to 8 transceivers on your group's tanks with each compatible air-integrated dive computer1 within a range of up to 10 meters.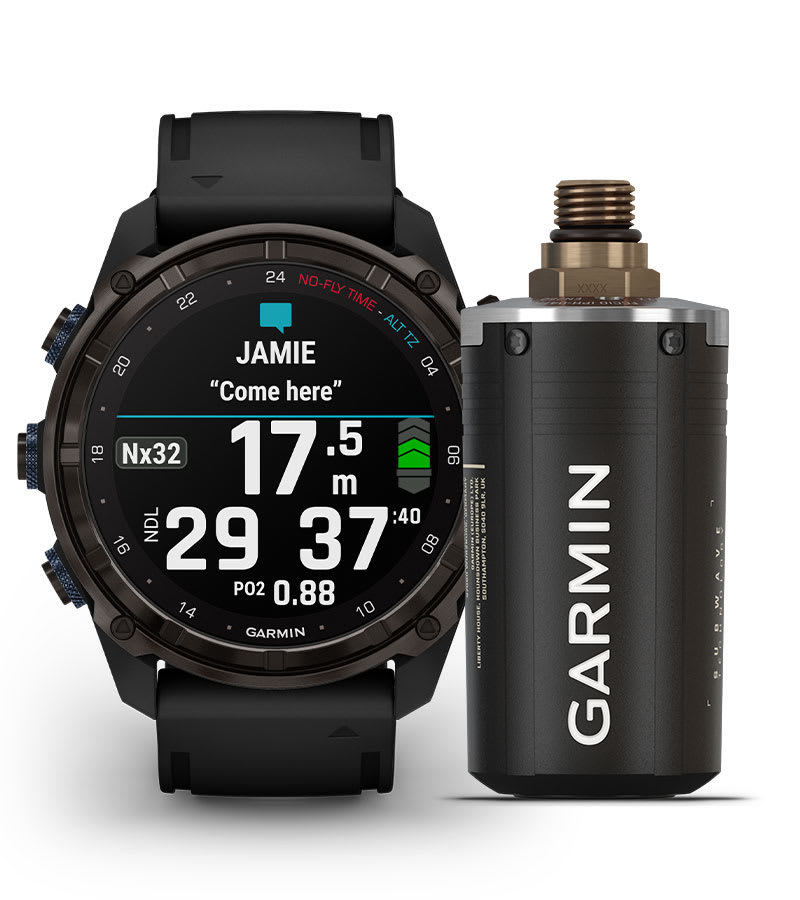 Diver Messaging
Exchange preformatted diver-to-diver messages with other Descent T2 transceiver-networked buddies wearing Descent Mk3i dive computers up to 30 meters away (coming soon).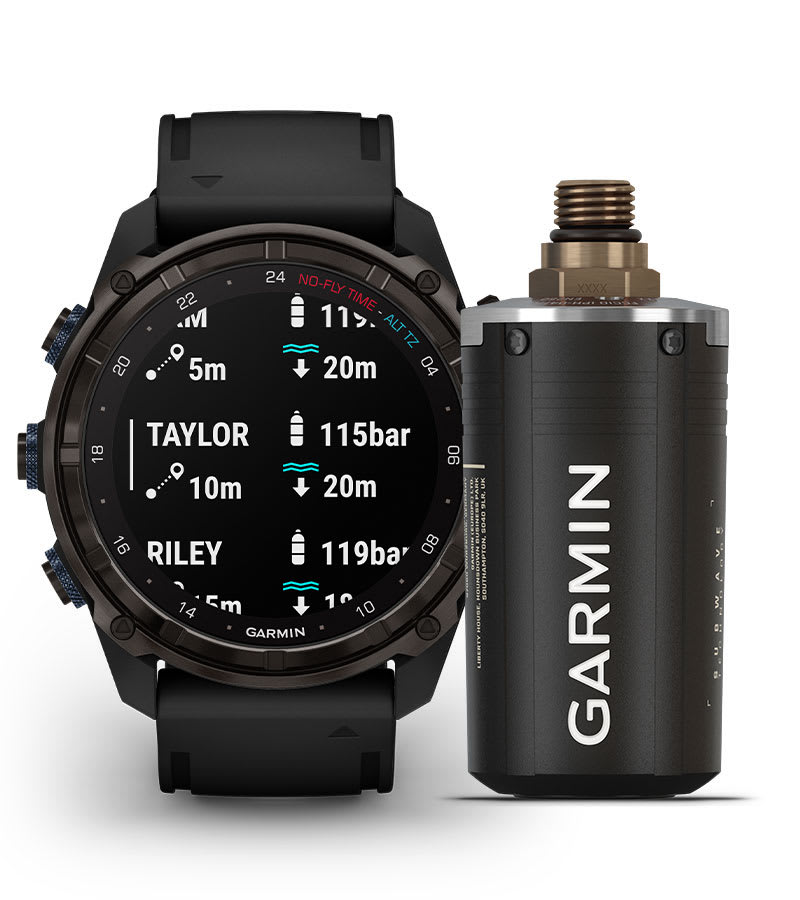 Easy Tank ID
A simplified pairing process using wireless area networking makes it easy to identify your buddies' names with the Descent T2 tank transceivers they're wearing.


Descent T2 sold separately.

可能含有纽扣电池或锂电池的产品和危险品的警告

警告 — 本产品含有纽扣或锂电池,属于危险品,请将电池放在儿童接触不到的地方

由于化学灼伤和潜在的食道穿孔,吞咽可能会在短短 2 小时内导致严重伤害或死亡。
如果您怀疑您的孩子吞咽或插入了纽扣电池,请立即拨打 13 11 26 致电 24 小时毒物信息中心,寻求快速、专家的建议。
检查设备并确保电池盒正确固定,例如螺钉或其他机械紧固件已拧紧。如果隔间不牢固,请勿使用。
立即安全地处理用过的纽扣电池。没电的电池仍然可能很危险。
告诉其他人与纽扣电池相关的风险以及如何保证孩子的安全。
国际运输

对于所有离岸岛屿和国际订单,工作人员将与您联系并提供包括国际运费在内的交货估算。请联系海关或您当地的邮政服务,因为您的订单可能会因检查而延迟,或者可能需要缴纳关税/税费,而 Infinity Dive 并未支付这些费用。这适用于所有国际运输方式。


关税和税款

国际购买商品免征澳大利亚商品及服务税。但是,根据物品将被发送到哪个国家/地区,接收方可能会征收额外的税款或进口关税。 Infinity Dive 对这些费用不承担任何责任,客户应自行与海关联系以了解交货事宜。

缺货政策

如果产品缺货,我们会与您联系。

如果该产品在整个澳大利亚缺货,交货时间可能会超过2个月。

这取决于品牌代理商提供的预计到达时间。
取消政策

订单取消

我们行动迅速,以尽快包装和发货我们的订单。如果您的订单尚未发货,我们应该能够取消您的订单。

请注意,某些订单一旦被 Infinitydive 接受,可能无法更改或取消。
如果您需要取消尚未发货的在线订单,请联系我们。

在 InfinityDive 接受之前,任何订单均不具有约束力。 InfinityDive 接受客户订单后,根据这些政策签订单独的产品供应合同。

InfinityDive 保留接受全部或部分订单的权利。如果我们对任何订单进行部分交付,则此类交付应构成单独的合同。 InfinityDive 接受订单后,不得取消或更改任何订单。

店内取货政策

如果产品有库存,店内提货订单可在 1 个月内到店取货;如果此时仍未收到订单,则可能会收取 10 美元/天的仓储费,除非事先与 InfinityDive 做出安排。

旅行/活动取消政策

 

24 小时内提出的取消请求不予退款。

我们将向所有参与者发出付款截止日期公告,不接受滞纳金。
如果您因个人原因取消或转移课程,您需要支付98美元起的管理费,该费用将计入已缴纳的费用中。
如果新课程的价值高于原始预订的价格,则还必须支付差额。没有例外。
如果特殊情况或海洋条件导致当天的活动必须取消,我们的学生或已付款的参与者将把费用转入积分。没有直接现金返还。
如果因个人原因在 14 天后取消任何已缴纳的费用,全额付款将转换为公司积分。如果出发前 7 天取消,费用将从兑换支付公司积分中扣除 50% 退还。出发前7天内付款,恕不退款。
任何活动或课程付款前,本公司保留更改价格的权利,参加者须主动确认相关更改。
如果在课程开始后 24 小时内出现紧急医疗状况,则必须提供证明,以便根据具体情况以折扣价转学。
如果您对我们潜水条件中的任何问题表示"是",则需要在预订时或课程开始日期前 14 天提供。一旦您无条件适合潜水,取消程序将适用上述条件。否则将导致放弃课程,重新预订将收取全额费用。

特殊情况

身体状况、口头指示、无条件付款等特殊情况将具体情况处理。

信用点

退款后的公司积分可用于购买公司内任何消费,且永久有效。
免责声明

请注意:由于灯光和显示器的原因,商品颜色可能与图片略有误差。
我们保证我们提供的款式和图片是一样的。

Infinity Dive 不承担任何关税或进口税。

非常感谢您的理解!
分享
打包并保存
Garmin Descent™ Mk3i – 51mm Carbon Grey DLC Titanium + Descent T2 Transceiver

$2,849.00$2,749.00

+

$699.00$598.00

+

$635.00$569.00

+

Suunto Wireless Tank Pressure Transmitter

$449.00

+

$459.00
---
Bundle Offers from Addly
查看完整详细信息